Martha Iserman
The world is on fire, and in these trying times, we need someone to help guide us through the blaze and remind us of what is truly important... the hero we deserve...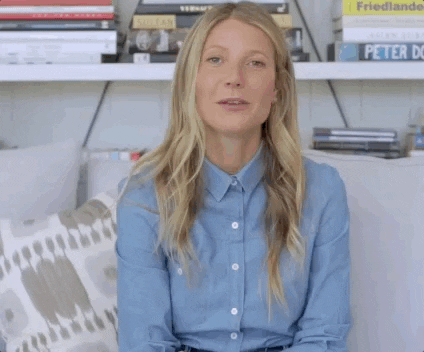 Oh, we do Gwyneth...we do
As the most basic of white women, I'm going to wield the heavy power of my influence and bestow my opinions on a variety of topics...
Trust me, I've always been super-cool
In all seriousness though, I think it would be a nice monthly exercise to look back at the music, books, movies and other art that I've experienced and share some observations. Admittedly my tastes might not be for everyone and I may not be "hip" to the newest and hottest trends (you guys heard of these Imagine Dragons?) but it'll be a record of my influences over the year. I'd love to spark a discussion with you all about art and artists to check out.
JANUARY 2020
Artist/YouTuber


There's no better place to start than with the guy who gave me the idea. I discovered the Aussie illustrator and YouTuber Struthless a few weeks ago and have been enjoying his video on creative output and what he's learned during his career.
He also started putting out lists of his favorite bands, artists, videos, etc and though he has very different tastes than mine, I find all of his takes refreshing. His illustrations focus heavily on comedic observations poking fun at different cultural scenes around Australia and generally anything that takes itself too seriously.
I recommend his youtube video about the drawing advice that changed his life. I've appreciated his thoughts on creative careers because his journey has been so different from mine, and his artwork is almost the opposite of what I produce. I like breaking out of my comfort zone sometimes and follow artists with different perspectives. Our work can be different but many of the obstacles creatives encounter are universal.
Music


I heard of Sudan Archives (real name Brittney Parks) this month from Miles Gray on the Daily Zeitgeist podcast (also a great follow), and she instantly became my Spotify go-to.
She writes, produces, sings and plays violin on all of her tracks, and her music is an exciting mix of R&B, electronica, and Sudanese fiddle. If you like FKA Twigs, you'll probably be a fan of Sudan Archives. She's also super stylish and sings with her pet snake. Check out her video for Glorious or Come Meh Way and check out her New York Times Interview.
Author


I'm always looking for a solid spooky story, and I was thrilled that I stumbled on the short stories of Brian Evenson this month. To be honest, I may have been drawn to the cover art initially, but after reading A Collapse of Horses and Song for the Unraveling of the World, I'm really into his writing style.
These four books combine to make a single image. Pretty cool.
You can always judge a book by its cover(s)
His tales are haunting, dark, and oftentimes just plain weird, playing with the conventions of horror and sci-fi in interesting ways. I always enjoy a story that takes a familiar trope (a haunted house, a planetary away mission gone wrong, two cowboys camping out in a cave) and manages to make them surprising and effectively creepy .
Podcast/Comedians


I already mentioned The Daily Zeitgeist, but I'd also like to call out The Pen Pals Podcast with Dan Van Kirk and Rory Scovel.
It's a simple premise; two close comedian friends answer letters from fans asking for opinions and advice on a variety of topics. Some are simple, some are funny, and some are really heartfelt and deep. No matter how heavy the conversation there's always humor and so so so many hashtags.
Through the podcast I've been turned on to their comedy. Rory has a special on Netflix (featuring Jack White!) and Dan just released a new comedy album. I appreciate how these two can mix real conversation and offbeat humor without sacrificing entertainment. Sometimes feel-good can be fun.
So hope you've enjoyed my January finds! If you enjoy any of these content creators or have any suggestions for things I should check out reach out and let me know! Comment on this post or email me at bigredsharks@gmail.com.
Happy 2020 and under no circumstances do you accept advice (or a jade egg) from this woman